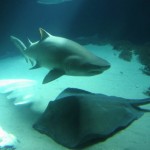 Here is a list of Aquarium exhibits that have live webcams at various locations around the world.
This is where you will find LARGE aquariums containing Sharks, Dolphins, Killer Whales, Sea Turtles and other saltwater and freshwater creatures like that.
If you're looking for smaller aquariums such as goldfish, please see our Home Aquarium category.
ANIMAL CAMERAS TAGS
shark cams around the world
webcams aquarium poisson live
new England aquarium webcam
live web cam aquarium
live aquarium webcams